Color Changing Photo Booth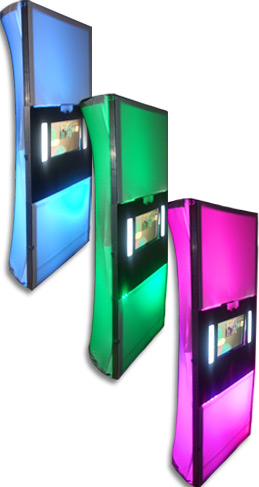 What better way to top off your event that with a Michigan Photo Booth Rental by Encore. We hope your ready, because your guests will be pulling you inside the booth to take pictures the whole time. When you add the photo booth to your DJ package, we give you HUGE discounts that are included with these fun options:
• Delivery with setup/tear down
• On-site photobooth specialist
• Rental is for duration of party NO IDLE TIME
• You supply your scrapbook (save $$$)
• Design Your Own Footer!
• Amazing photo lab quality prints
• Online photo gallery for (1) year
• Copy of images on USB Flash Drive
• Smiles always included 🙂
We also give you duplicate copies of the printed photos with no minimum (color or black and white). You get two prints so one half goes home with your guest as a keepsake, and the other strip is taped into your very own scrap book. This is a great feature for Michigan wedding receptions and other special events. Since our #1 goal is to save you both time and money, we don't charge clients for scrapbooking with any of our photo booth rentals. The only thing you have to do is bring the scrapbook and supplies. This only costs around $10 in miscellaneous stuff.
Most vendors try to sell you a memory CD at the end of your night with all your photos, but we all know that disc ends up getting scratched. You can relax knowing all your pictures are safe on the USB stick we give you. Photos can easily be shared with family and friends once your party has ended.
Stand Out with Personalized Layouts
Do you wanna give your photo booth images a refreshing look? Let us brainstorm up possible custom templates that will complement your event. Our design will match closely with the theme of your party. People love this concept, because it gives a layered effect to your images, the pictures actually fade right into graphic. You can see an example by clicking on a picture below, and don't forget to mention custom templates when you contact us!
IMPORTANT: Encore only uses the best in photo quality printing. This means we use dye sublimation printers, and the results are waterproof photos that will last for dozens of years. Any photo booth rental company you are interviewing with should use a dye sublimation printer. Ink jet printers will smudge if handled 1 minute after printing.
Learn how Encore will help share your photo booth memories, email us or call 877.643.8368