Room Uplighting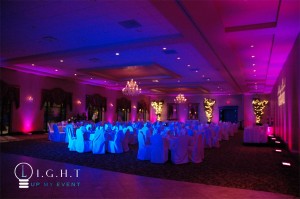 Lighting design adds life to your event by throwing color on various elements. This is commonly use for wall washes, custom image project, center piece pin spots, and colored ceilings. We can make over any area with your choice of colors, to give a beautiful back drop pictures. Since LED fixtures are computer controlled, colors will change as the vibe for your event does. You can expect tons of compliments coming from guests. Even your other vendors will tell you how amazing your it looks.
.
"We bring the WOW factor to your table…"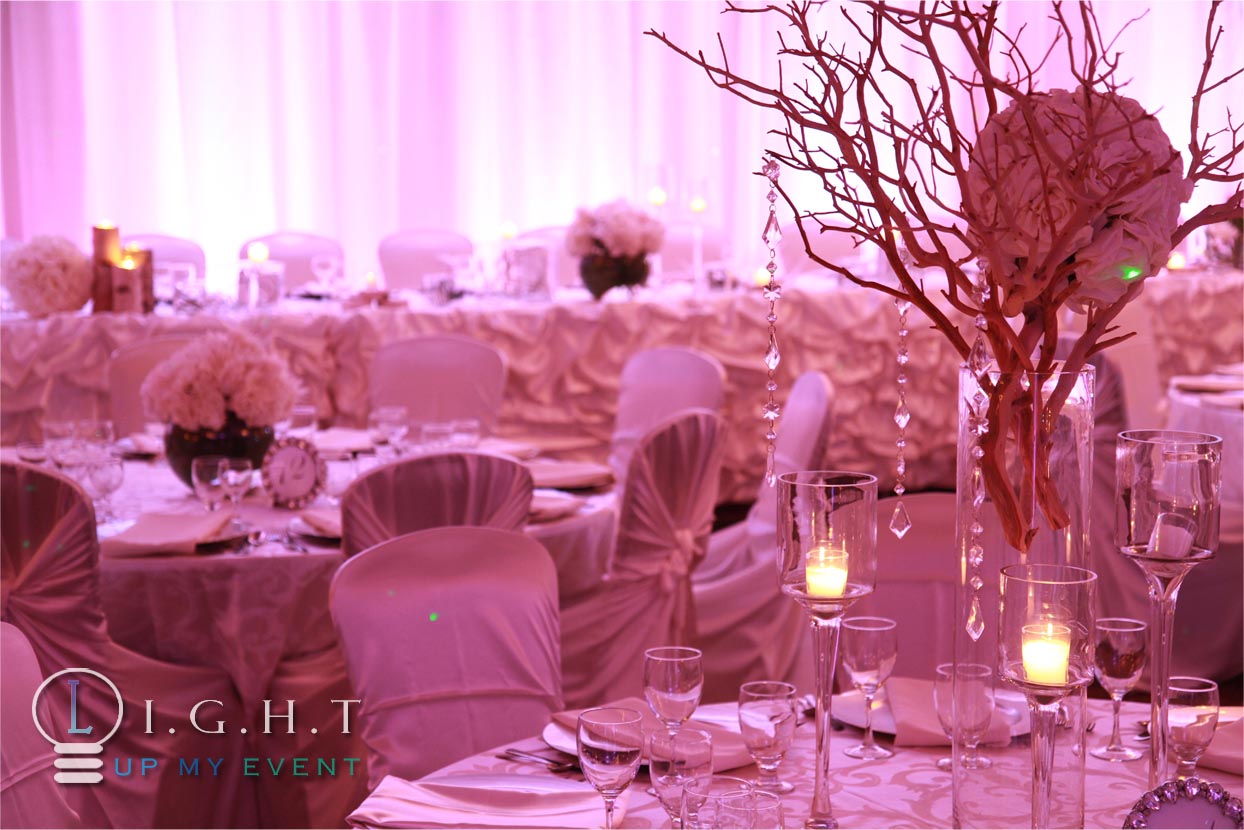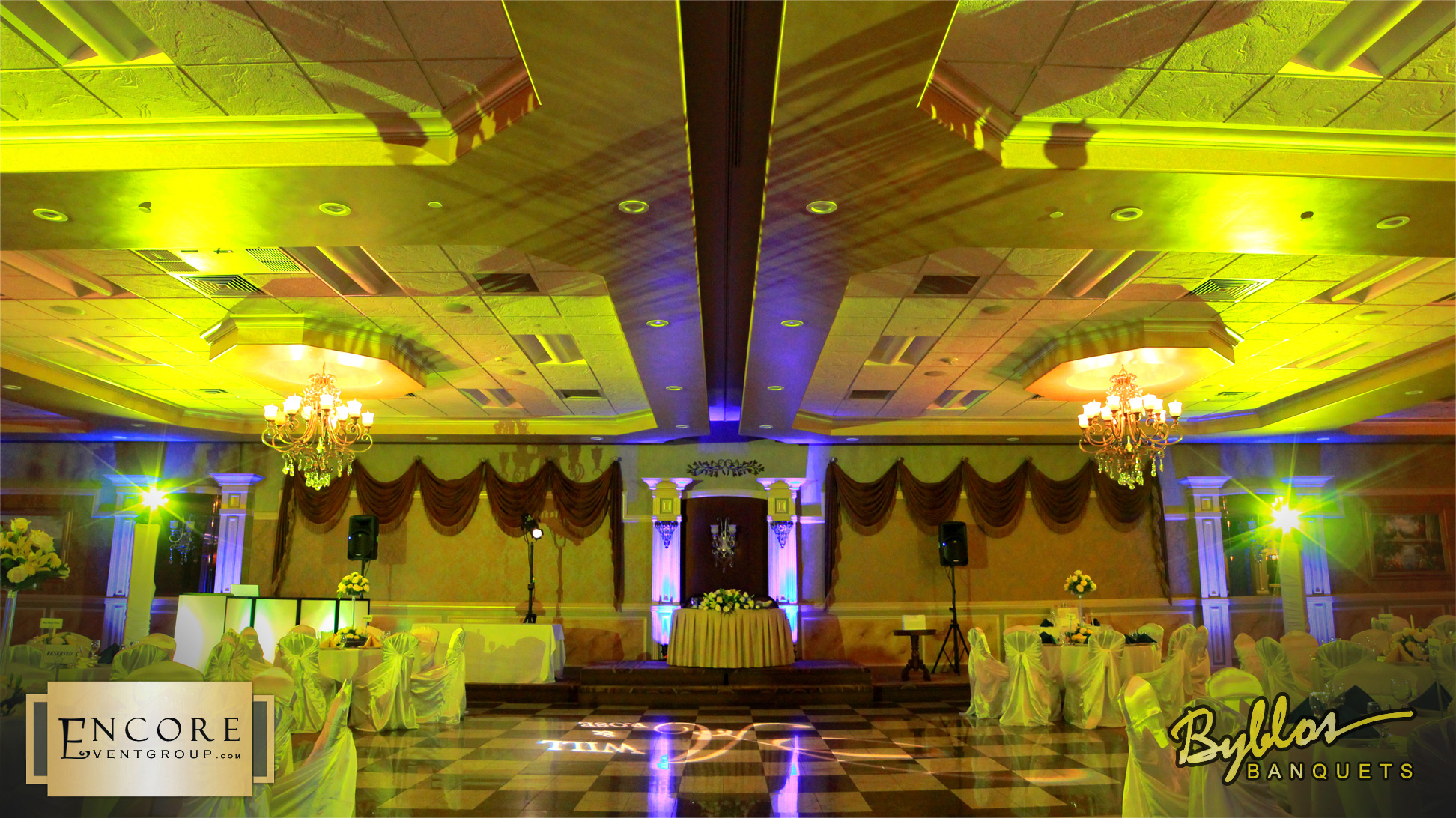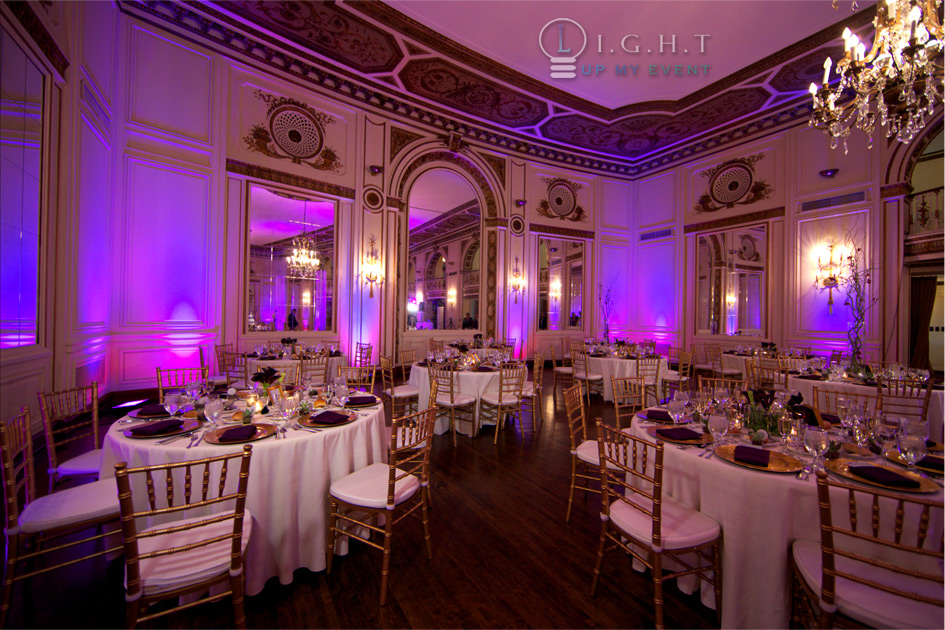 Match Your Lighting with Your Theme
What colors will you use to light up your event? Bold colors will visually give you the best results. This includes bright colors that are high in saturation. You can use deep oranges, light blues, hot pinks, and subtle greens. A popular lighting choice for parties is washing a wall in color. This is done by arranging LED lights at the base of your walls around the entire room. During the mellow portions of the evening, lighting will match your table clothes and surrounding decor. During the dancing part of your party, lighting will slowly fade between colors. For example, if we play Lady in Red your whole room is red… if we play Usher Yea, your room is green like the music video. Your walls will change color with the beat of your music.
Click images below to get a taste of some of the 1,000,000 colors we have available
Pipe and Drape it Up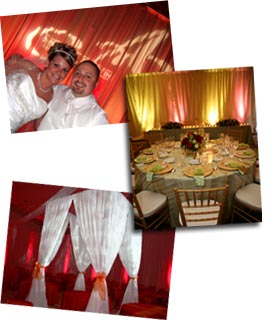 Cloth is a unique way to convert the floor plan of any event. This is usually done to make an amazing backdrop behind head tables. Pipe and drape is also used to create a canvas when you have no possible lighting choices. Two situations when this is necessary is for halls that have wood stained or dark paint.
Click HERE for more samples of drapery
We know there are some halls that have walls that are better heard instead of seen. Drapery is a great way to cover them quickly and discretely. You can even design separate spaces with pipe & drape. Some clients will have this around doorways and lounge areas. When up-lighting pipe and drapery, we suggest soft colored cloth for the best color saturation.
.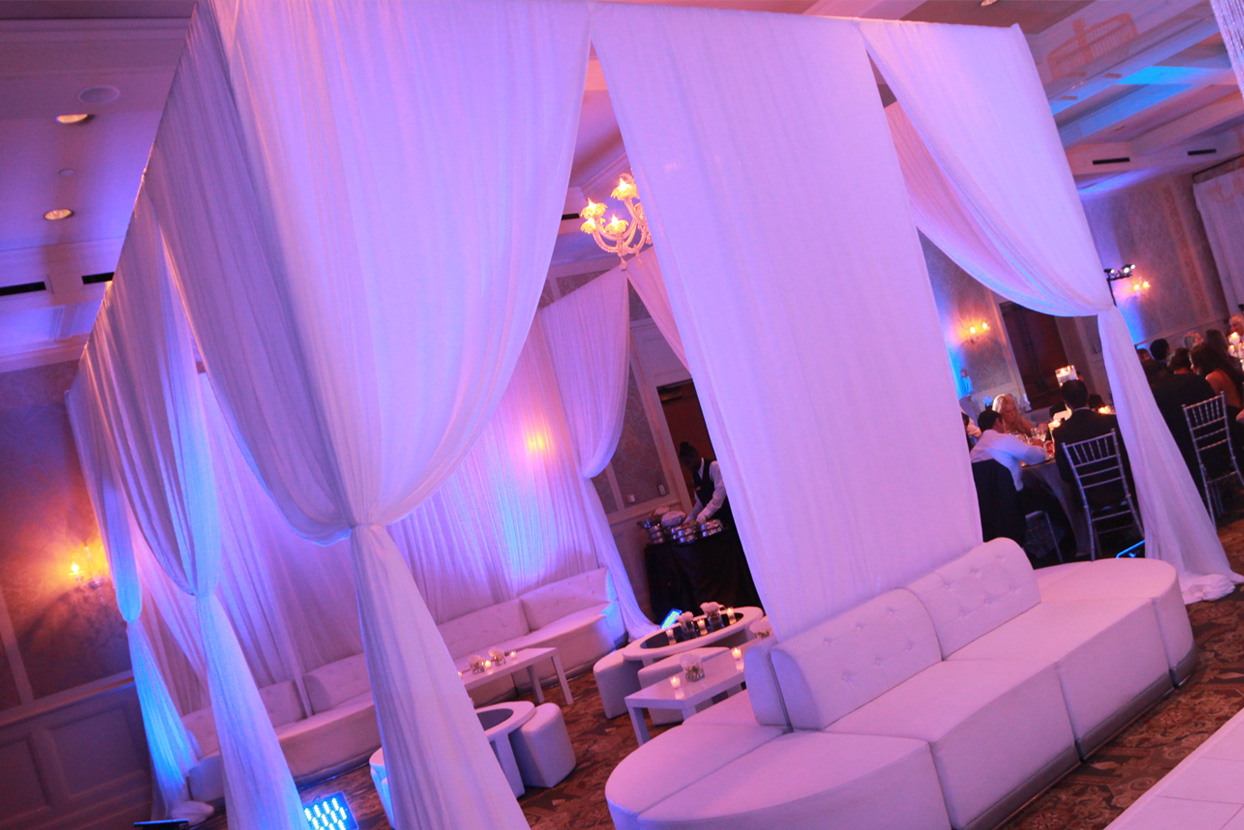 Like something straight out of a Dr. Seuss book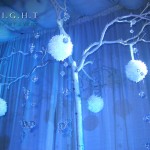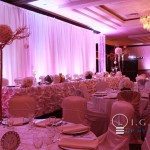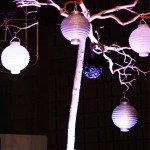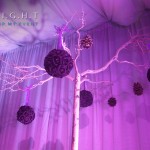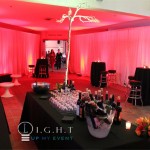 (Click thumbnails above to enlarge)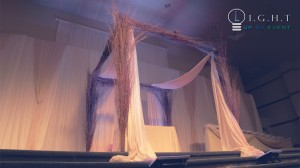 Event trees are an Encore original. It's pretty amazing to think that you can have trees placed in various locations at your next party. These are perfect for adding layered elements when combined with lighting options. You choose from a wide selection of colors to have your event trees mimic. This gives a new twist on traditional event decor. Also consider hanging jeweled bead strands, over-sized pine-cones, mossy green, or tying ribbon colors to your branches.
No matter how you decide to utilize event trees, your guests will be in awe by the amount of creative planning you put into your overall theme. Click any of the (3) images above to make the sample photos larger.
.
14 Foot Tall Hanging Crystal Bead Chandeliers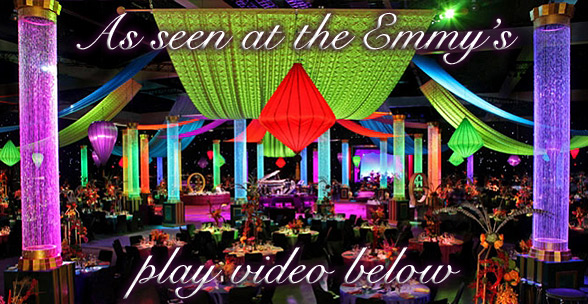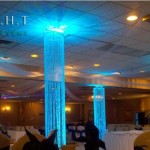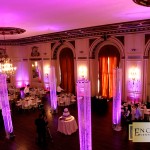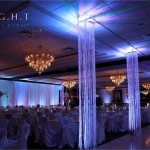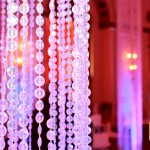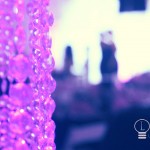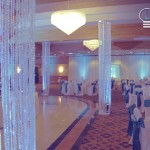 Bistro Light Strands Make Your Party Stand Above The Rest…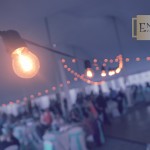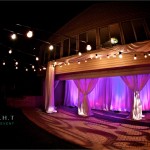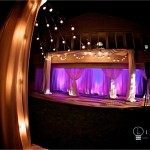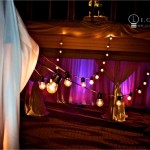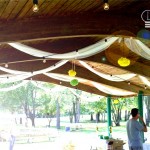 (Click thumbnails above to enlarge)
Are you looking to create a relaxing atmosphere? Bistro lights add warmth to your party in a classic way. These old world bulbs overlook guests while enhancing your ambiance. They can span great lengths to accommodate any space. Since we keep this on a dimmer pack, we can adjust the intensity of the light filament. These look amazing when above a dance floor, hung from the ceiling, or cascading between trees. Click any of the pictures above to enlarge the sample images.
Make Your Centerpieces Really Shine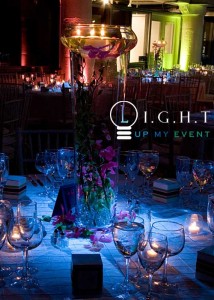 What do you want people to think when they notice your center pieces? Centerpieces are mainly used to create a focal and pin spots will make the come to life. We direct power LED spot lights on your centerpieces to make them pop.
You can even have crystal bead strands hanging from branches in tall vases. These crystals will absorb and redirect the pin-spotted lighting making your whole room shine like the night sky. All that is needed to display this remarkable effect is (1) pin spot per table. We will make sure that guests appreciate all the hard work you put into arranging your center pieces. This is commonly done at Michigan wedding receptions.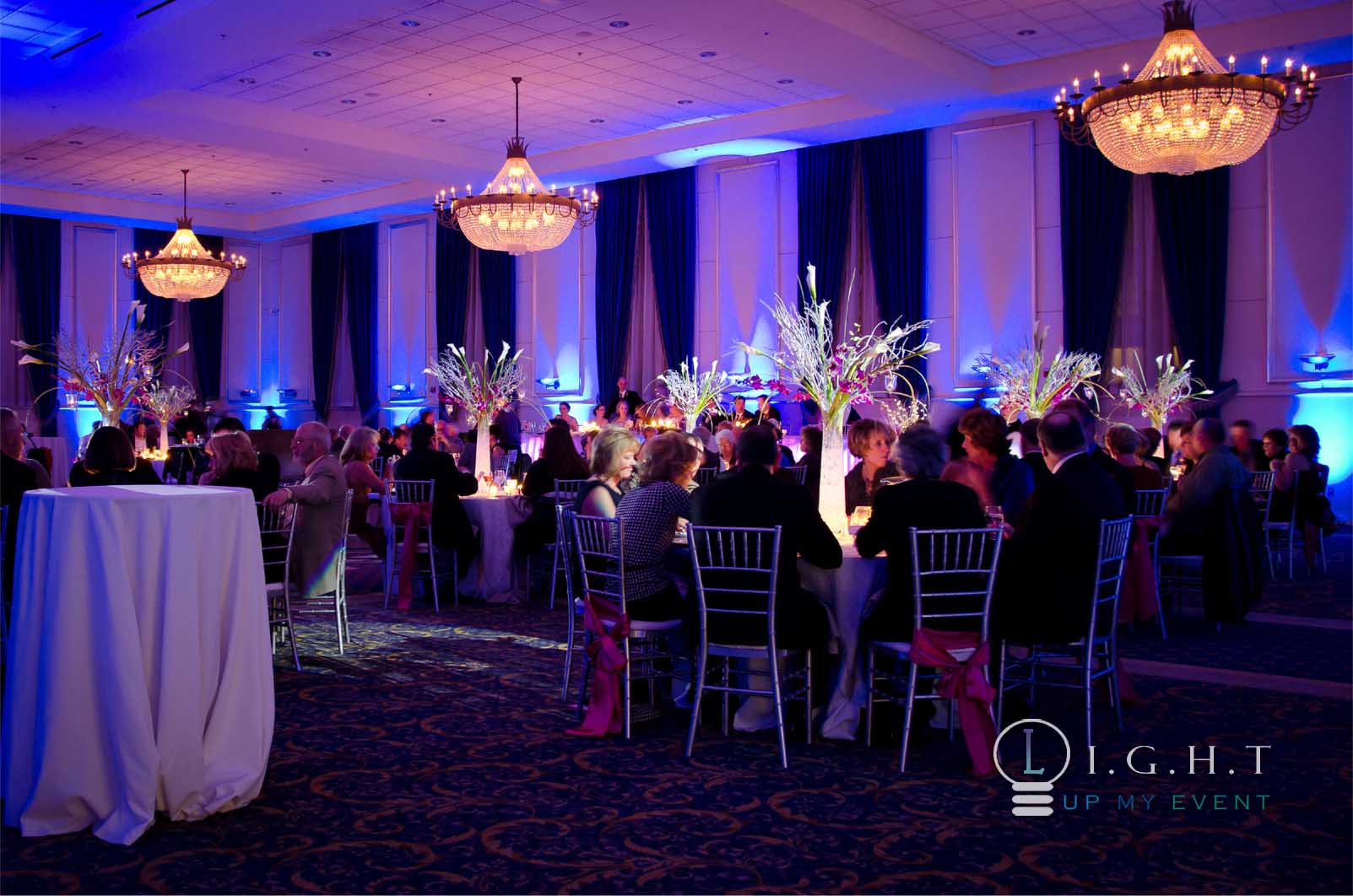 .
Color Your Ceiling to Match Your Decor
Ceiling washes are generally used to keep your space well balanced with colors. This options is great for places that have high cathedral ceilings and outdoor tented structures. The higher your ceiling the more efficiently the colors will mix. Many of the applications have a ceiling done as a secondary color to compliment the main color. For example, you can have aqua walls with a pink ceiling. Since we use intelligent lighting fixtures, you ceiling will change as the event continues. The fixtures we use are computer controlled, so ceiling washes can also be used for follow-spots and special recognition speeches.
Learn what uplighting options can do for your party, message us here or call 877.643.8368