Private Party DJ
A dynamic party is far from average, and no one wants to throw a mediocre event. Let me guess, you probably need help entertaining guests and you want them to have fun. First of all, you are talking with the right company. We will keep them talking about your party months after it is over, and we have a solid track record to back our reputation. Besides tons of wedding receptions in Michigan, we have worked with many popular companies in both Michigan and Ohio.
We've hosted a substantial number of successful parties including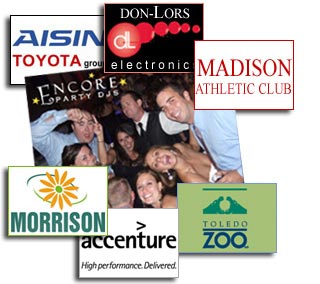 • Anniversary Party
• Birthday Celebrations (Grosse Isle DJ)
• Halloween Parties (Elmore DJ, Dearborn DJ)
• Engagement Party
• Grand Opening for Company (Redford DJ)
• Music for NYE (Madison Heights DJ)
• Reunion Gathering (Melvindale DJ)
• Ice Breakers (Sterling Heights DJ)
• College Grad (South Lyon DJ, Romulus DJ)
• Awards Banquet Ceremony (Lansing DJ)
• Corporate Holiday (Livonia DJs, Southgate DJ)
• Public Events/Fund Raisers (Shelby Twp DJ)
• Backyard Pool Party (Livonia DJ)
• Super Sweet 16 (East Lansing DJ)
• Sweet 18 Party (Wixom DJ)
• Bar/Bat Mitzvah with BBOY Breakdancers
• Formal Dinner Gala (Grand Rapids DJ)
• Surprise Retirement Party (Wyandotte DJ)
• Graduation Parties (Fraser DJ, Monroe DJ, Howell DJ)
• and much more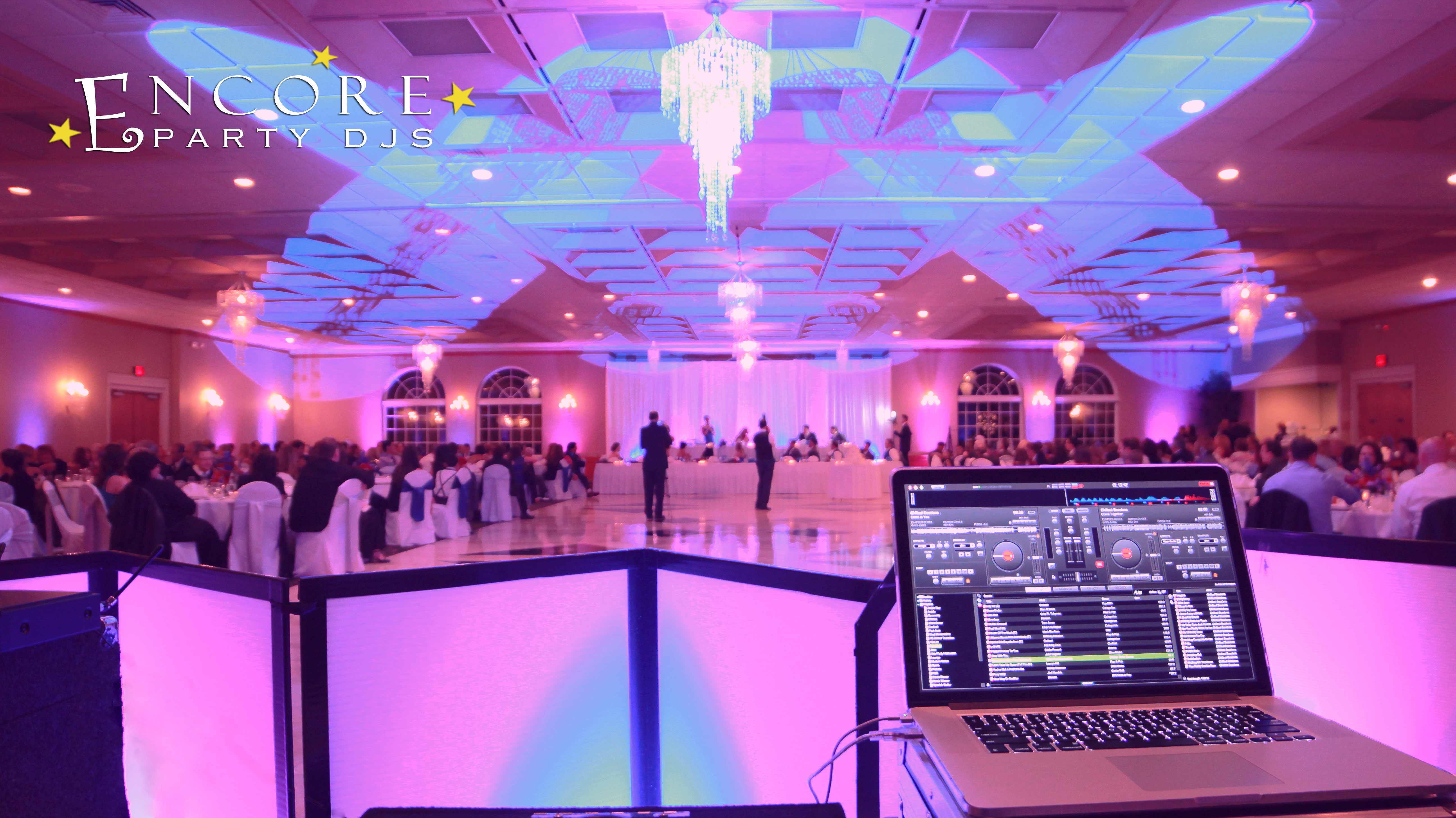 Your guests will thank you for inviting them to a stellar party. All we need is people and electricity. Depending on what you want to accomplish, we can even incorporate elements of Michigan uplighting into your event. This makes for an amazing backdrop in your photos. Trust me, your guests will give you tons of compliments on the lighting. What better way to top of your night than with a photo booth in Michigan. Not only are they unique, but they give your guests a fun way to express themselves. Watch the Proplogix video below to see more of work beyond disc jockey services.
More Options = The BEST Event
EVER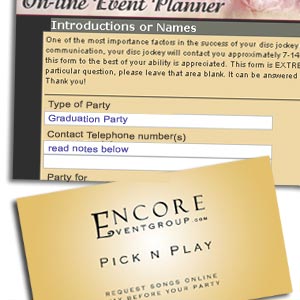 You can easily drag & drop song into your own personal request list. Guest have this same freedom with Pick n Play. You can mail these cards out with your invites and it gives guests an online password for their 'Must Play' list. What better way to break the ice with your guests than get them involved with planning your music.
Besides being able to tell us your favorite songs, you will also be able to organize all the event details. The online planner is great for letting us know the who's, what's and when's of your party. We find out the names of all the VIPs, and get a structured itinerary timeline. This does (2) things for you, remove the stress from you, and allow us to manage your other vendors. We give them a heads up prior to any important activity and make sure everything goes as plan.
The video above features Encore draping, furniture, and our LED robot Chroma-Tron. Lighting and DJ production were provided by another company listed in the video description.
GlamCam & More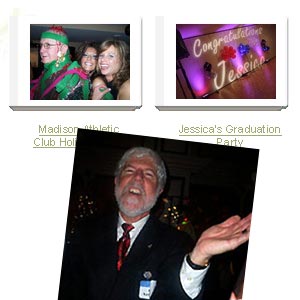 You know that you are probably going to be too busy mingling with guests as they come and go, so take advantage of our services while we work your event. We can take a dozen or so GlamCam pictures throughout the event and post them online. This is great, because these photos might be the important ones that your photographer missed. You will see candid shots of people enjoying themselves throughout the evening.
Our basic light show is what other companies charge extra for. When I say basic, I really mean advanced. This lighting is computerized and is included to help stimulate your space. Since Encore specializes in unique lighting design. This means our team can create almost any effect you request in advance.
"our limitation is your imagination…"
As you can tell, we do more than just play music. What you can expect is a top quality presentation from Encore. We will create a custom package that includes exactly what you are looking. You never have to worry about hidden charges or last minute fees. Our #1 priority is to make sure you and all your guests have a great time. So if you want more dancing + more fun options, done your way, then check your dates availability above. We are looking forward to making your event like none other.

How to Pick Between a Michigan DJ

Fun Michigan Bar Mitzvah Ideas

Plan a Super Sweet 16 Party

Top 10 Party Songs
For great options from a reputable company, message us here or call 877.643.8368.