High School Prom DJ
Planning something big… let's make it a party. Your formal dances require more sound, creativity, and energy. We can offer your school's committee something unique. We understand that you're not looking for outdated music from a wedding reception DJ, that is why we will make this dance the one to top. We've been invited to Michigan Proms, Homecomings, formal dances, middle school, high school, and elementary dances all across the state. Look over our list below to see local schools that we have had the opportunity to work with. Chances are if we have not been hired by your school yet, then we have probably worked with schools in your area.
The Company Michigan School Districts Trust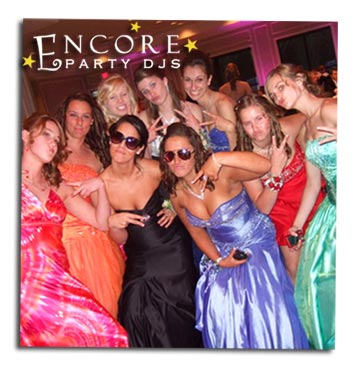 • Whitmore Lake High School
• Allen Park Schools
• Delta Delta Delta (Detroit DJ)
• A.B.T. (Prom Lighting)
• North Farmington HS (Dearborn DJ)
• Hoover in Livonia
• St. Regis in Bloomfield Hills
• Mount Pleasant High School
• Delta Phi Epsilon (Lansing DJ)
• Parcell's in Grosse Pointe Woods
• Clarenceville High School
• Dryden H.S. (Homecoming DJ)
• Oscoda High School
• Allen Academy
• Academy of Sacred Heart
• Byron High School
• Canton High School
• Orchard Lake in West Bloomfield
• Carmen Ainsworth High School
• Woodland in East Point
• Pi Beta Phi (Lansing DJs)
• Milford High School (Troy DJ)
• Walled Lake Northern H.S. (Howell DJ)
• Southfield Christian H.S. (Michigan Prom)
When it is an important dance for the graduating class, don't forget to invite us. We have unique options that can be bundled together to save you time and money. We can transform your room with Michigan uplights so the color of your walls match the theme of your dance. You can even have your students strike a pose and capture the memories with our Michigan photo booth rentals. These options are a great way to make your high school homecoming both unforgettable and extremely fun!
Customize your school's experience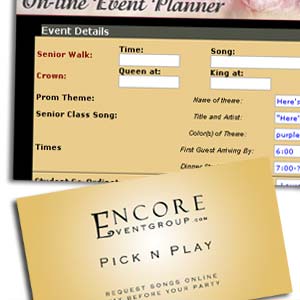 We deliver a live mixing format with clean radio edited versions of songs. There will be no surprises with the music at your prom, because you have complete control. You organize all your favorite songs online with a password. We can even help increase your ticket sales by giving your students Pick n Play access months before the homecoming. This allows them to add music to the online playlist and view request popularity.
And what better way to keep track of all your details than with an event planner. We go over all these details with you (1) week prior to your date. You can modify the important times, label the class song, even tell us what colors you want the lighting to match. We will also followup with you throughout the evening to make sure there are no last minute changes.
Rock the House with GlamCam + Lighting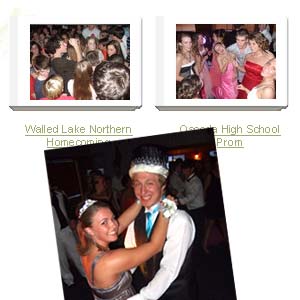 Take your Michigan High School Prom to the next level with computer lighting. We include a choreographed light show when you book with us. This adds energy to your space and lighting will change with the beat of the music. You can even bundle lighting design options to really highlight your important details. This includes custom image projection, center piece pin spotting, wall/ceiling washes, and light pillars. You have to decorate the room anyways, so let us help you with lighting design.
During your school's dance, we might take a handful of GlamCam pictures. These are typically shots of guests enjoying themselves on the dance floor. When students get the chance to see the images, they will be talking about all the great shots we took for weeks.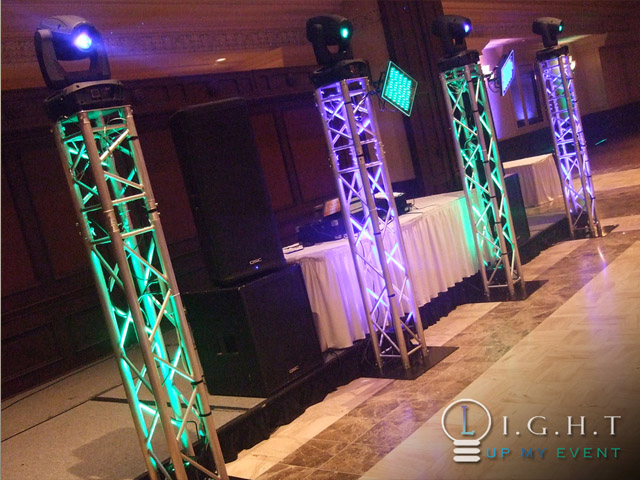 Your Biggest Event of Your Social Year
These will be the memories you look back on, years from now. Why should your planning committee trust anything less than amazing for your once in a lifetime event. We are the Michigan Prom DJs school districts most commonly rely on for their entertainment needs. Our lighting designers have light up beautiful proms all across Michigan. Our custom built Michigan photo booths have captured tens of thousands of smiles. From wild and crazy to the most reserved type of high school events, we will make sure your dance is a HUGE success. To make your your biggest event of the social year is the best it can be, check your dates availability above. We can't wait to exceed your expectations.

Top Prom Themes

High School Prom Invitation Sample

Stylish Proms
For live mixing high energy prom DJs, message us here or call 877.643.8368.