The Encore Photo Booth Company has Guests Raving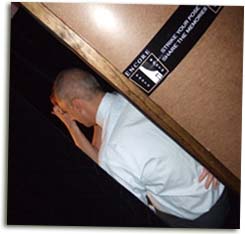 Encore Photo Booth has clients raving about their photo booth services. Booths give guests the ultimate experience at any event. It a win-win situation, because guests take their images home while you can keep half in a scrapbook. Everyone can relate to photos, even grandma. So read more below about how Encore puts the fun into your event with photo booths.
First of all you will get great options from a reputable rental company. We don't just rent our photobooths, our company is also the manufacture. We sell our smile generating machines to companies all across America. Our booths are so cool, that we even have a patent on how they light up and change colors. The outside of the shell can light up and match the same color you need for your event. How awesome would it be to have a teal or pink photo booth?
Now you are probably wondering about the packages. Let's just say that we have covered all the bases. You can choose from three different packages. The one that fits best for you will depend on what you are looking for. Is it important that you get unlimited images? Is double prints all you are looking for. Regardless, I can say that we will make you happy at the end of night.
Some things you can expect is a courteous and friendly photo booth specialist on-site for the duration of the event. They are there to assist your guests with getting in and out of the booth. If you choose to scrapbook and bring the supplies, we will put it together throughout the event. Our booths have a modern sleek design. They feature a touch screen monitor to select either black and white or color images. They are so roomy, that you can fit up to 15 people inside of them.
The most important part of  any photo booth company is the quality of photos. With Encore Photo Booth, you can expect higher quality and quantity. The main reason for this is that we only use dye-sublimation photo printers. These are the same ones you will see in a professional photo lab. Our photos print in 6 seconds compared to other companies that can take up to 3 minutes. Seriously, who would want to wait that long to get their images?
You get all the great options other companies have & more. This is because you are dealing with a Michigan event company. Looking for entertainment that will keep your dance floor packed? Choose from 2 of our Michigan DJ services. Encore can even light up your event with Michigan uplights. To learn more about the company in Michigan that provides more than just photo booths, contact our studio today @877.643.8368. We will give your guests a couple reasons to rave about your event.