Wedding Reception DJ
We host hundreds of events all over Michigan every year, and 80% of our business is wedding receptions? Our Michigan wedding DJs bundles packages for brides which save time & money. We're a full-time company, which means we help take away the stress but not the control. Get a better picture of what we have done for past clients, by checking our extensive list of references. Besides noticing that we have that largest list of happy couples in Michigan, you will also have the chance to see photos and videos of our talents in action.
You have nothing to worry about when it comes to Encore Event Group. Our team is comprised of experience individuals excited to go above and beyond. In addition, we can include a photo booth or lighting design with your package. Please read below to learn about other popular options we will include with your package.
Pick n Play + Online Planner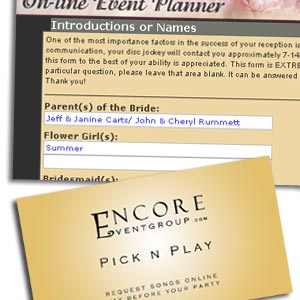 Now you have complete control over the music and information for your wedding. We give you and your fiance a password that allows you to modify your itinerary details for your event. Create a personalized music list by organizing songs into categories online. If we don't have the song you want, then all you have to do is add it to the list and we buy it.
When you book with us, we send you (1) Pick n Play card per couple. These cards can be mailed with your invites, even handed out to family & friends. They have a password on the back, allowing guests to request songs online. Pick n Play gives your guests a modern alternative to getting involved. Don't want to mail out the cards? You can link the Pick n Play login page to your wedding website or Facebook.
Computer Lighting + GlamCam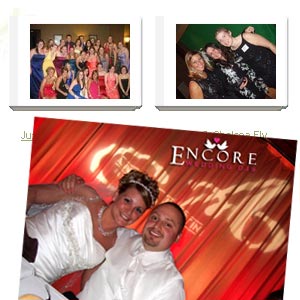 Throughout the evening, we sometimes will take fun event photos that we like to call GlamCam pictures, and put them on our website for you to see later. Trust us when we say that there will be a lot of photo opportunities during the event. These might be photos that your photographer accidentally missed and you can expect spontaneous shots of guests enjoying themselves on the dance floor.
Basic lighting is sometimes considered an extra cost when it comes to other DJ companies. Our light show is great because it is included with your package. Dance floor lighting is computerized and will change as the mood for your party unfolds. This may include clouds going across your dance floor, or light ivory colors for formals dances. If we play "Al Green", the whole dance floor is green. If you hear a faster song, it might change colors with the beat.
"Our Michigan DJ company gives you the MOST value for your money"
We will entertain your crowd and keep them on the dance floor all night long. Bottom line, we specialize in unique wedding receptions. We will give your guests an experience they will talk about for years to come. Through thousands of events, we have learned how to properly plan and execute a stress free experience. Whether you're in Royal Oak, or another city, we know this is your ONE wedding, and it has to be done right. It's not like we can get together next week and do it all over again.

Wedding Ceremony Etiquette for Bridesmaids

Unique Wedding Favor Donation

Tips and Advice: Plan the Perfect Wedding Reception

20 Favors for Your Wedding

5 Secrets to Get Your Guests Dancing
For wedding DJs that make your night perfect, message us here or call 877.643.8368.